BUSINESS
/Business/Bridge-decks Pavement Surface Waterproof
Bridge-decks Pavement Surface Waterproof
BUSINESS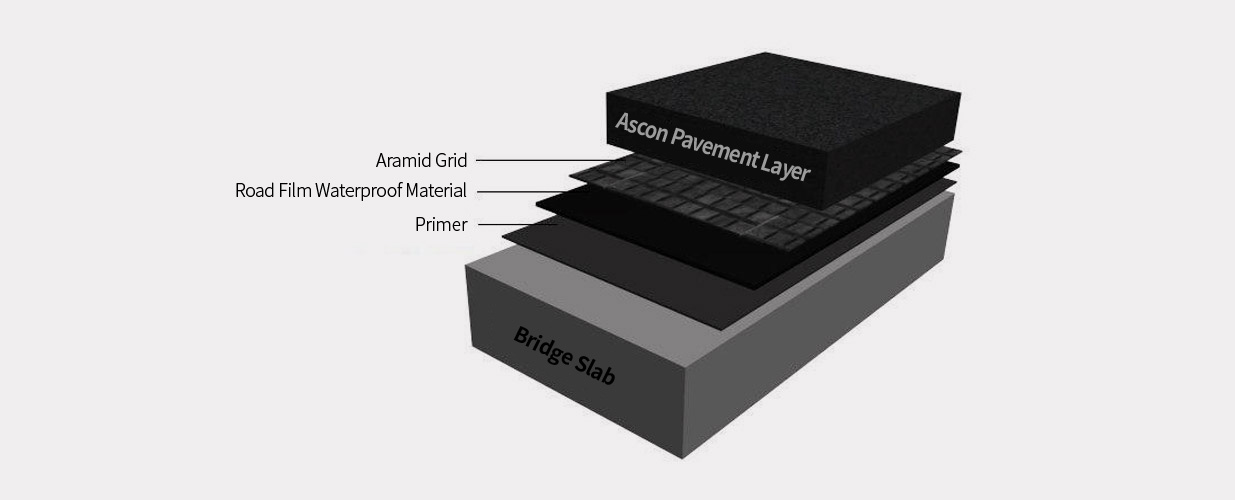 Road Film Complex Type Bridge-decks Pavement Surface Waterproof
Conctruction Method Overview
It is complex type waterproof construction method to form waterproof layer with coating of road film waterproof material which is manufactured with high molecular forming asphalt and melted using heated melting method, and to install aramid grid which is protecting material for waterproof layer. It has excellent suppression ability for crack and is a new construction mathod of bridge waterproof to enhance durability of pavement
Construction Method Characteristic
- It has an excellent waterprrof ability and does not occur slip phenomenon by high tension and shearing adhesivity.
- It is able to construct irrelevant to concrete strengh and has crack suppression effect by aramid grid.
- It is able to continuous construction without joint portion and install irrelevant to floor shape (Concavo-Convex)
- It has an excellent adhesion with asphalt and is able to unify with waterproof layer, secures long term public service.
- There is no worry of waterproof crush by equipments (Finisher, Dump, etc) in case of ascon deposition.
- - Corrosion does not occur due to chemical durability.
Problem of Conventional Bridge-decks Surface Waterproof
When rain water is percolated into crack of concrete upper plate. crack is expanded gradually by freezing expansion, it generates corrossion of steel bar ans cracl of concrete.
Slab Punching Phenomenon

Floor deterioration

Slip & Pot-Hole
Complementary Conuntermeasure of CoOnventional Bridge-Decks Wafterproof
1. Roal Film Waterproof Material
When it is melted high molecular forming asphalt waterproof material and coated on slab, it has excellent waterproof ability and slip phenomenon is not occurred.
Roal Film Waterproof Material Coating [New Installation]

Roal Film Waterproof Material Coatinf [Repair]
Coating Completion [New Installation]

Coating Completion [Repair]
2. Aramid Grid
Aramid Grid which is waterproof layer protction materila is the product that impregnates asphalt, it has adhesive ability with pavement layer and excellent crack suppression ability and longterm public usage securement.
Aramid Grid Installation [New Installation]

Aramid Grid Installation [Repair]
Installation Completion [New Installation]

Installation Completion [Repair]